Tensile Strength Machine UI-1100
Description
Tensile Strength Machine is used to test material tensile strength by pulling the sample at a constant speed and to know sample ultimate tensile strength at its breaking point. Tensile strength machine is applicable for shear, compression, elongation and other tests of fabric, footwear, leather, plastic, rubber, paper, textile, yarn and etc. So tensile testing machine is also called as Universal Testing Machine (UTM).
1. Unuo Tensile Strength Tester Brief Introduction
Unuo Instruments is tensile testing machine manufacturers and supplies tensile testing machine for sale with competitive price. By adopting brand key components, we ensure our tensile strength testing machine with long service time, high quality & performance.
Computerized universal testing machine. Display test curve. Different test standards can be chosen from operation software.
UTM tester motor: Panasonic servo motor or equivalent
Load cell: Celtron or equivalent
Speed: 0-500mm/min or 0-1000 mm/min (speed can be set)
Ball Screw rod: Can withstand more force than the ordinary screw. Ensure the UTM would run more stable, with less noise, and have higher accuracy.
Emergency stop function
Capacity: max 30T
Stroke: can be customized
Grip: can be customized according to your test standards
To sum up, as an experienced tensile strength tester manufacturer, we can customize the tensile strenght tester's stroke, capacity, test fixture and use your specified load cell brand.
2. What Is Tensile Test/Tensile Test Definition
The sample is stretched at a constant speed in the direction of force application until fracture or stress (load) or strain (elongation) reaches a predetermined value, and the load and elongation of the sample during this process are measured. For some small samples like ornaments on garments, footwear, snap button pull tester is recommended.
3. What is the importance of tensile strength?
Tensile test can help people to know test sample properties and if it can meet standard requirements or not. Unuo Instruments supplies various types of instruments to measure tensile strength.
*You may also like: Single Column Universal Testing Machine
4.

What is Tensile Strength Units?
Tensile strength unit is N/mm2 (Mpa) which means tensile force per unit area of the sample.
 5. How is Tensile Strenght Tested? 
The tensile strength test is a combination of the tensile system (force system) and the force / distance measurement system. The sample is pulled at a constant speed in the force direction through the power system. The force system measures the force by the load cell in the same force direction as the sample. The force element obtains the tensile load applied to the sample, and the strain data is obtained through the dynamic system calculation data, after the information processing of the integrated circuit, and finally reflected on the test system, thereby obtaining the tensile load, tensile strain, and the whole The stress and strain data of the test process travel the stress-strain curve on the test system. Unuo UTM tester can be used as fabric tensile strength tester machine.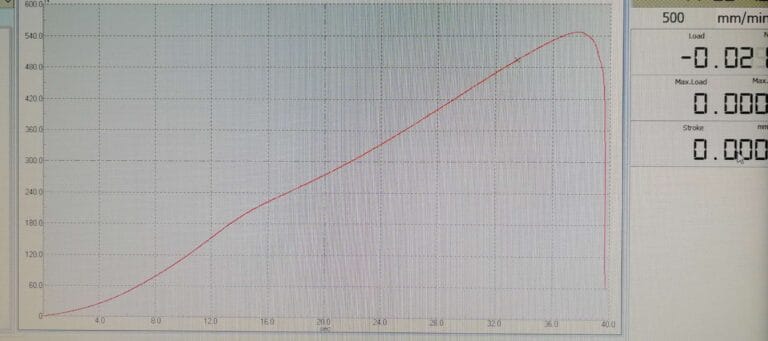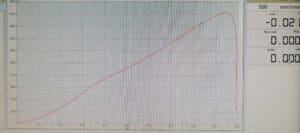 6. How to Calculate Elongation in Tensile Test
There are two ways to obtain the sample elongation measurement. One is to calculate the elongation of the sample through the deformation (elongation) of the sample, and the other is to obtain the deformation (elongation) data of the sample through the extensometer connected to the sample. Elongation (%) = (deformation increment / initial distance of specimen or standard length of specimen) × 100.

 7. Tensile Test Calculations/Results
Tensile strength calculation: during tensile test, the maximum tensile stress the sample bears, tensile strength = F / A (N / mm2 / Mpa)
F: Force obtained by the force measuring system (N);
A: original cross-sectional area of ​​the sample (mm2)
8. Unuo Tensile Testing Machine Specification
Model
UI-1100
Capacity
50N, 500N,1KN,10KN,20KN (Optional)
Serve motor
Panasonic
Load cell
Celtron
Force measure range:
0.2%~100%FS
Load accuracy
±0.5%
Decomposition degree of load
1/200,000
Deformation measurement range
0.2%~100%FS
Deformation indication relative error
Within ±0.5 of indication value
Walking space(without grip)
1100mm
Effective width
410mm
Test Speed
0.01-1000mm/min
Crossbeam Speed relative error
Speed < 0.01,

error = within setting value ±1.0%

Speed ≥ 0.01mm/min,

error = within setting value ±0.2%

Speed accuracy
±0.5%
Displacement resolution
0.001mm
Data recording frequency
200times/sec
Power
1 phase 220V, 50/60hz
Unuo Instruments is tensile strength tester manufacturer and supplies competitive tensile strength machine price. Welcome to Contact Unuo Today for details.