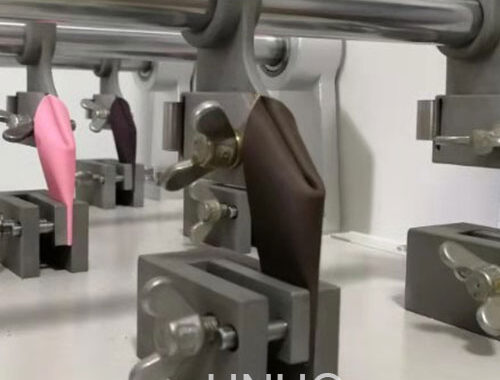 ISO 5402-1 Leather Flex Resistance – Flexometer method – Unuo
ISO 5402-1 (IULTCS/IUP 20) is a method to test leather dry or wet flex resistance. This method will flex leather with fold for a certain cycles to check if tested leather will have damage or not.
1. Application
ISO 5402-1 is suitable for all kinds of flexible leather whose thickness is below 3mm.
2. Required Machine/Tool
Bally flexometer which has required grip to cause fold, counter and can continuously runs at a certain speed.
Magnifier
Desiccator
Glass dishes
Cutting knife
Unuo Instruments supplies all of the above machines and tools. Contact us for a price quote and more details.
3. Sample preparation
Cut sample with pneumatic sample cutter by using cutting die.
4. Dry Flex Test
Condition the samples as per required by ISO 2419 and test in lab atmosphere.
5. Wet Flex Test
Place the sample in a glass dish, then out the dish in the desiccator and reduce the pressure to below 4kPa for 2 min by using vacuum pump. Then take out to normal atmospheric pressure. Repeat the pressure reduction twice.
6. Clamp the sample
Please pay attention to this step. Clamp the sample according to standard requirement. If any question, please contact our tech dept for details.

7. Periodically check sample
-Dry flex: 500, 1000, 5000, 10000, 10000, 25000, 50000, 100000, 150000, 200000, 250000 cycles
-Wet flex: 500, 1000, 2500, 10000, 20000, 25000, 52000 cycles