Velcro Fatigue Tester UI-FT35
Description
Velcro Fatigue Tester is used to test the velcro tape/ hook and loop fastener fatigue resistance ability to repeated closing. Touch and close fastener repeated closing fatigue test is one of the necessary steps for velcro strength test no matter for peel strength or shear strength.
1. Unuo Velcro Tape Fatigue Tester Features
Pre-set test cycles function; This hook and loop fatigue tester would automatically stop once it reaches the cycles;
Safety cover to protect the operator; machine would stop once the door is open;
Real test cycles and pre-set cycles display;
High quality motor to ensure the Velcro Tape Fatigue Tester runs stably;
Touch Screen Control; User-friendly;
2. Velcro Fatigue Tester Principle
The fastener repeated closing tester consists of 2 drums. The smaller drum is directly driven by the motor and the larger one is driven by physical contact with the smaller one. Amount the loop tape on driven drum(the small one) and the hook tape on ldling drum(the big one). Run the fastener fatigue tester to certain cycles. Velcro testing standards includes EN ISO 22776, DIN 3415, SATRA TM123, GB/T 3903.20, GB/T 3903.21 and etc.
* We can customize this hook and loop tape cycle testing machine to meet standard JIS L 3416 : 2000, ISO, DIN, SATRA, GB.
3. Velcro Fatigue Tester Key Specification
Model
UI-FT35
Driven Drum
160.0±0.5mm
ldling drum
162.5±0.5mm
Drum Width
≥70mm
Counter
0~9999999 cycles
Speed
60±5rev/min
Direction Revers
30sec
Sample Pressure
1.0±0.1N/mm
Power
1∮ AC 220V 50Hz
Standards
 DIN-3415, SATRA TM123, ISO 22776, GB/T 3903.20, GB/T 3903.21, GB/T 23315-2009
Accessories
10N, 20N Load;

Press roller
4. Know more about Velcro Strength Test – Velcro Test
4.1 What is Hook and Loop Fastener
The fastener has two sides, the one which is rough is hook while the other soft one is loop.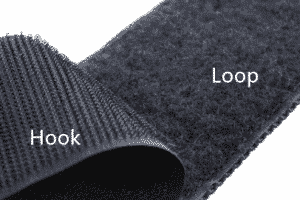 As mentioned above, velcro fatigue test is an essential procedure of velcro strength test. Here we take velcro shear strength test as per EN ISO 22776 as an example.
Step 1: Cut a sample to a required length and press the sample fastener with press roller. Make sure the roller would apply a force of 1N ±0.1N per mm width of the sample. And use the tensile tester with specified grip to test shear strength before the repeated closing test and record the value.
Step 2: Cut the sample from the same sample of step 1 to a required length. Use the roller to press the sample to certain times. Then, use the velcro tape fatigue tester to do the fastener fatigue test. Cut the test sample after repeated closing into 4 pcs and use tensile tester again to access the shear strength.
Step 3: calculate the result as per standard.
Above is the brief introduction about velcro strength test and velcro fatigue test. If any questions, please feel free to let us know.