DIN Abrasion Tester UI-FT24
Description
DIN Abrasion Tester – DIN Abrader is a rotary drum abrasion tester to test abrasion resistance of rubber products on specified grade abrasive paper under certain pressure. DIN abrasion standard includes ISO 4649, DIN 53516, ASTM D5963, SATRA TM174, and etc.
Unuo Instruments is DIN Abrasion Tester manufacturer and supplies rubber testing machine with reliable quality. Contact us today for DIN abrasion tester price and free DIN abraison tester pdf!
1. Unuo DIN Abrader Features:
Can do rotating test and non-rotating test;
Button Control & Advanced Touch Screen Control for your choice;
Detailed operation manual & video are provided for DIN Abrasion Test Procedure (See the bottom of this page. Operation Video);
DIN abrasion tester accessories are provided. Pre-rub metal block, brush to clean abrasive paper, abrasive paper, standard rubber, sample cutting device and etc.
2. DIN Abrasion Tester Working Principle
DIN Abrader(Abraser) consists of a rotating drum whose surface would be stick with sandpaper 60#. DIN Abrasion is one of the most common rubber abrasion test methods. Equipped with a rotational block, Unuo DIN abrasion machine can do both rotating and non-rotating tests.
Clamp the rubber sample on the specimen holder, the DIN abrasion machine would rub the sample on the drum under a certain inclination and a certain load. Then to measure the sample volume loss after rubbed for a certain distance.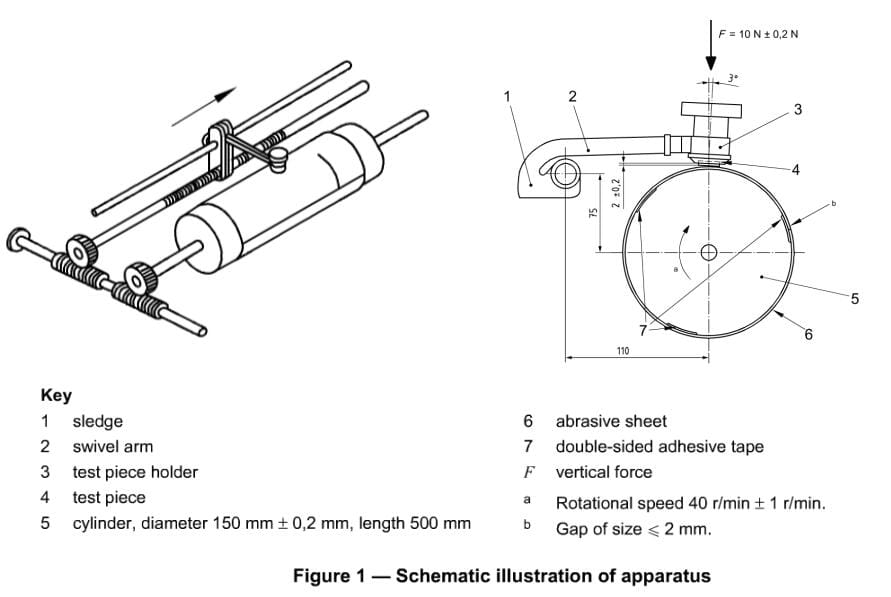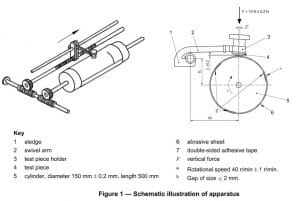 3. ISO 4649 VS DIN 53516 DIN Abrasion Test Method Comparison
Generally speaking, this 2 din abrasion test methods have the same specification requirements for the DIN Abrader. The most obvious difference is ISO 4649 mentions 2 abrasion test methods – non-rotating or rotating while DIN 53516 has no clear requirements for this. Both standards are adopted to determine abrasion resistance of rubbers.
Warm tip: the rotating method would make the sample to be rubbed more uniform. But, the non-rotating is more commonly used.
4. How To Calculate Abrasion Resistance of Rubber / DIN Abrasion Test Results (ISO 4649 abrasion test for example)
4.1 Relative Volume Loss
  ∆Vrel = ∆mt * ∆mconst / pt * ∆mr
∆mt : the mass loss, in mg, of the test rubber test piece;
∆mconst : defined as 200mg for method A using standard reference compound No. 1;
Pt: the density, in mg per cubic millimetre , of the test rubber;
∆mr :the mass loss, in mg, of the reference compound test piece.
4.2 Abrasion resistance index, ARI
ARI=(△mr×ρt/△mt×ρr)×100
∆mr : the mass loss, in mg, of the reference compound test piece;
Pt: the density, in mg, of the test rubber;
Pr: the density, in mg, of the reference compound;
∆mt : the mass loss, in mg, of the test rubber test piece;
We do welcome your inquiry about DIN abrasion resistance tester price, other rubber testing instruments, and related details. Here for more Rubber Abrasive Wear Tester.
5. DIN Abrasion Testing Machine Specifications
| | |
| --- | --- |
| Model | UI-FT24 |
| Load | 2.5 ± 0.1 N; 5.0 ± 0.1N; 10.0 ± 0.2 N |
| Lateral displacement | 4.2mm±0.04mm per revolution of the drum |
| Drum | Diameter 150 ± 0.2 mm, length 500mm |
| Rotating Speed | 40 ± 1r/min |
| Wear Stroke | 40 ± 0.2 m ≈ 84 cycles |
| Test Method | Rotation and non-rotation |
| Angle of dip | 3° |
| Abrasive Paper | 60# |
| Standard | BS-903, GB/T 9867, ISO-4649, JIS-K6264, SATRA TM174, ASTM-D5963, QB/T 2884-2007, ISO 20871:2001, BS EN 12770:2000, DIN53516 |
| Power | 1∮ 220V |
6. DIN Abrasion Test Procedure & Video