Washing Fastness Tester UI-TX58
Description
Washing Fastness Tester is a color fastness tester to determine textile fabric color fastness to washing or dry cleaning as per ISO (550ml cup) or AATCC (1200ml cup).
As colour fastness to washing is an essential color fastness test of textile fabric, this washing colorfastness tester is an indispensable color fastness test equipment for textile industry.
Unuo Instruments is textile testing equipment manufacturer and supplies various kinds of color fastness testers.  
1. Unuo Washing Fastness Tester Features
made of stainless steel, corrosion resistant
cup volume: 550ml(ISO) and 1200ml(AATCC) for choice. Can be made to meet with both types.
cup number: can be made with max.24 cups
adjacent fabric is supplied (optional)
steel ball is supplied. Diameter 6mm.
microprocessor program control, temperature controller, time controller.
rotate/inch button.
safety device – once the cover is open, machine would auto-stop.
running in 40±2rpm speed is stable.
the water temperature of the test box is precisely controlled by a temperature sensor and digital display
2. What Is Washing Fastness Test
The washing color fastness test is used to test the washing color fastness, dry washing color fastness, rinsing color fastness, washing powder performance, and other washing and dry cleaning fastness properties of various textiles. Anyways, most of the textile products would be washed. In this process, color fastness to washing is of great importance. High resistance of color fastness to washing can not only ensure that the clothes will not fade during the washing process, but also prevent the clothes from staining other items. At the same time, it can also ensure that the washing process does not cause harm to humans and the natural environment.
3. Washing Fastness Test Method
This washing fastness tester meets ISO105 C01-C06,C08-C10,D01,E03,E12, AATCC 61,86,132,151,190,AS 2001.4.15 ,CAN/CGSB-4.2 NO19.1,FTMS 191 TM5610.1, FTMS TM5600, 5614.1, 5622, GB/T3921.1-5, GB/T5711, GB/T 12490, JIS L0844, 0860, 0861, 0884, 0889, M&S C4/C10A,C14A,C12A,P137,C49A,C37,C26,C11,C10A,P3B,C5,P12A,
4. Measurement of Washing Fastness / Test Procedure
Make the sample in contact with adjacent fabric;
Launder the sample inside of the cup with a specific ratio test solution, steel ball, temperature;
Run the wash fastness tester at certain speed and for a certain period of time;
Extract the excess water from the sample;
Dry the sample under certain condition;
Evaluate sample color change and adjacent fabric staining with gray scales;
*above test procedure is referred from colour fastness to washing iso 105 c06
* Unuo Instruments supplies multifibre adjacent fabric(ISO 105-F10), two single-fibre adjacent fabrics(ISO 105-F01-F07), gray scales for sale.
5. Color Fastness to Washing Rating
The color fastness can be divided into 2 parts: sample color change & adjacent fabric color staining. For the evaluation, you may need color matching chamber. There are 5 grade for color change and staining as below.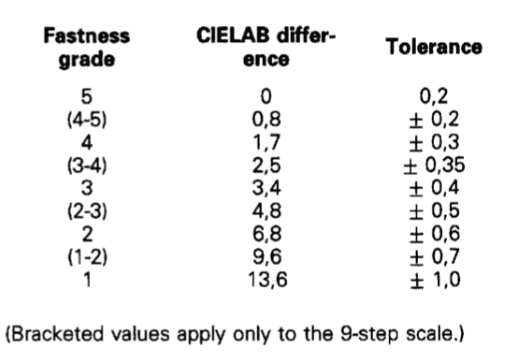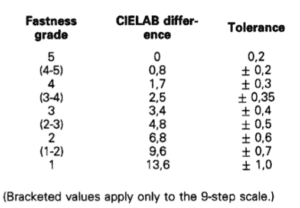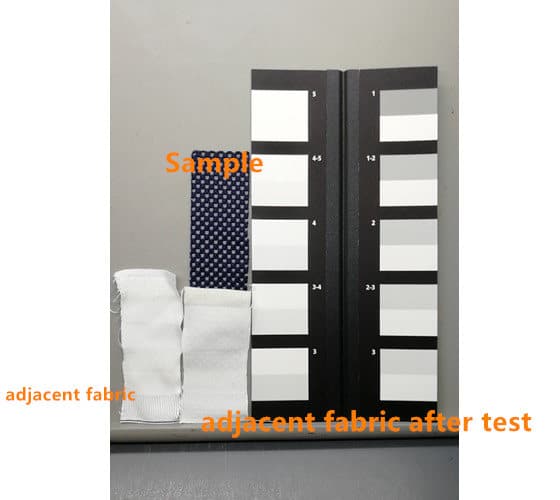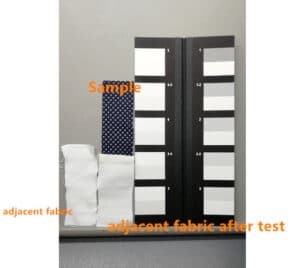 5. Washing Fastness Tester Key Specification
Model
UI-TX58
Test Cups
4 Cups

g. 2pcs of AATCC & 2pcs of ISO

4pcs of AATCC or ISO

Cups
1200ml (AATCC)or 550ml(ISO)
Water temp. display
RT~95℃,0.1℃
Speed
40±2rpm
Stainless steel balls
100pcs/pack,diameter 6mm
Power
1∮AC220V or 3∮AV 380V  50/60Hz
Standards
ISO105 C01-C06, C08-C10, D01, E03, E12,

AATCC 61, 86, 132, 151, 190,

AS 2001.4.15, CAN/CGSB-4.2 NO19.1, M&S C4/C10A,

FTMS 191 TM5610.1, FTMS TM5600, 5614.1, 5622,

GB/T3921.1-5, GB/T5711, GB/T 12490,

JIS L0844, 0860, 0861, 0884, 0889,

M&S C14A, C12A, P137, C49A, C37, C26, C11, C10A, P3B, C5, P12A,